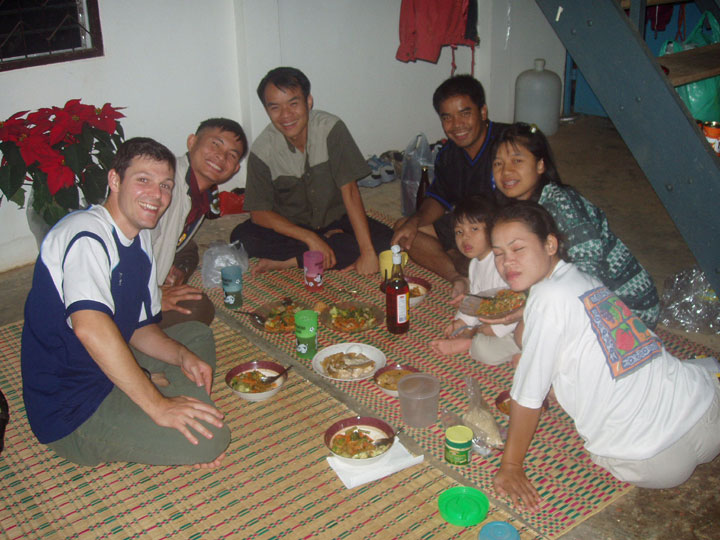 Our first dinner guests. We invited these neighbors and friends over to enjoy a pasta dinner. As we described above, they didn't appreciate it as much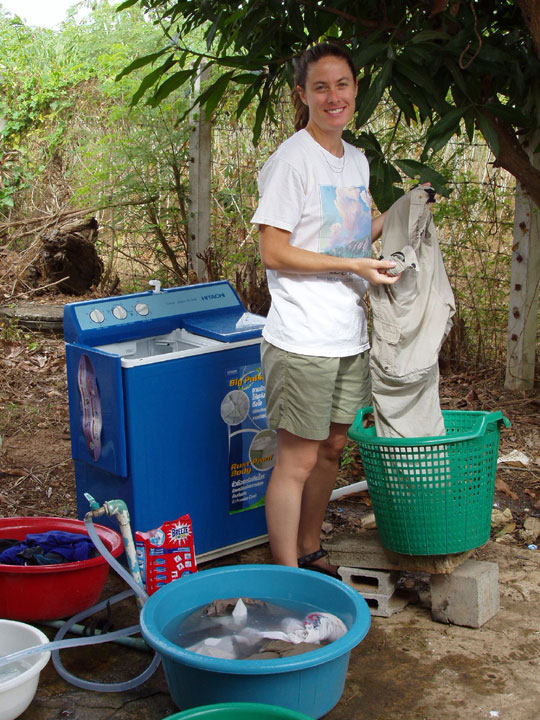 A very happy Vanessa with our new washing machine. A little different from those at home. There is a spinner on the right side that whips away a lot of the water from the cloths. Afterward we hang them in the sun.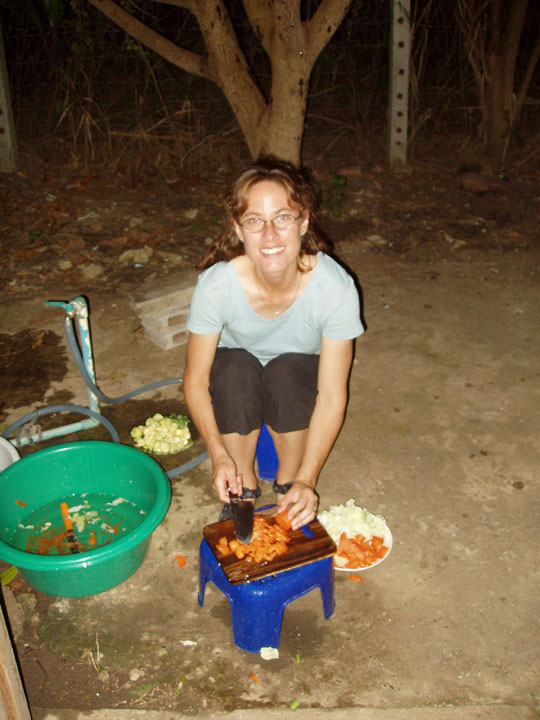 .
Vanessa washing and prepping our vegetables for dinner.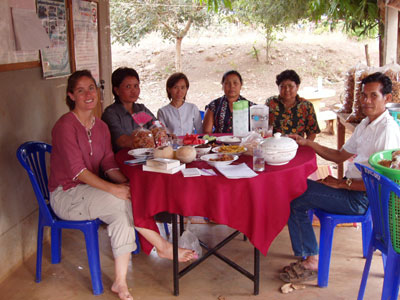 Vanessa with one of the women's groups. These folks make cookies.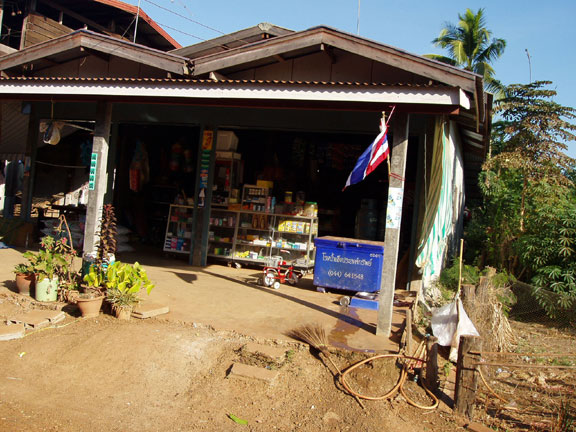 Our "7-11". There is not much selection, but it has some of the essentials.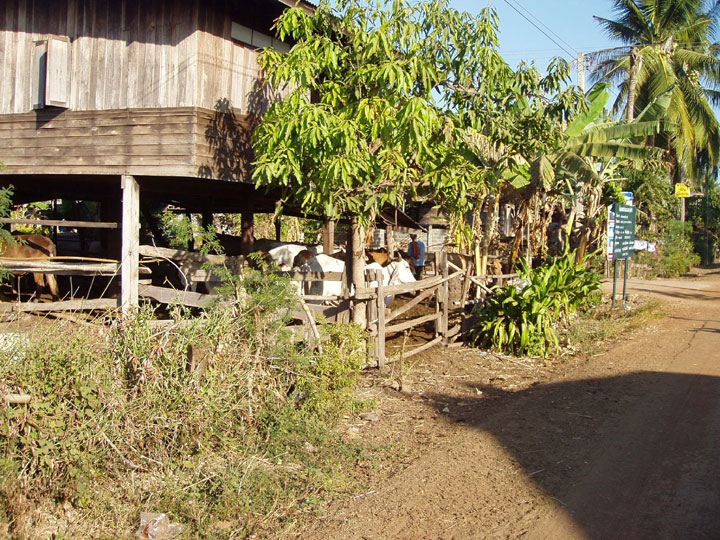 Typical house in town. Yet these residents chose to keep their cattle underneath the house.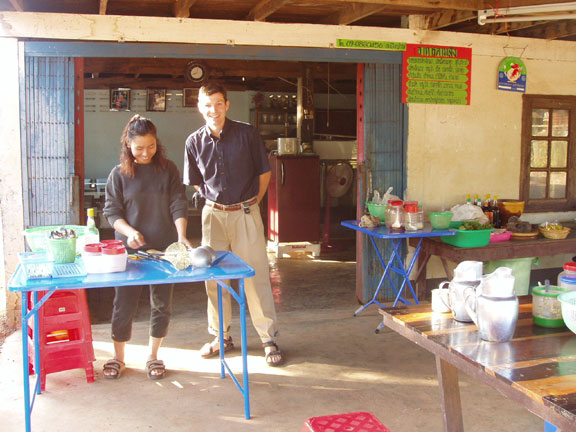 Cullen at our favorite restaurant. Ms. Dtai is preparing another delicious meal. The kitchen is on the right under this cover. There are three to four tables behind us that we hangout at. Almost everytime we eat here, random people join us to talk.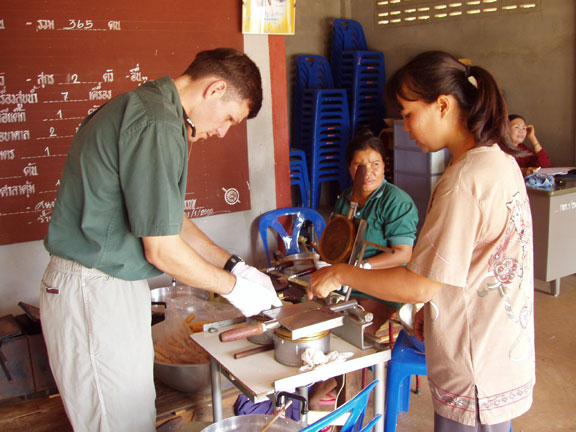 This very patient women is teaching Cullen to make cookies at one of the women's groups. A very patient person in deed. At least we were able to eat the mistakes.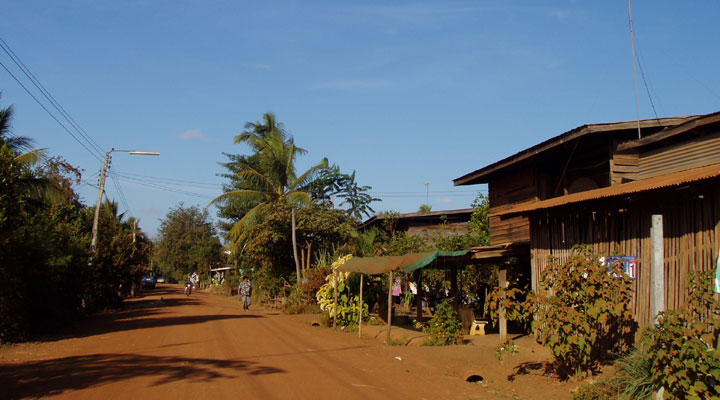 Typical view down one of the streets of our village.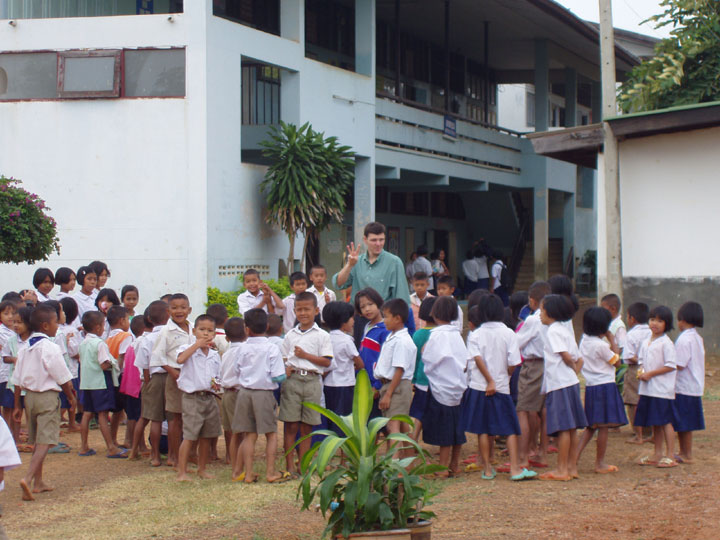 Cullen with kids at the school. During the first few visits to the school. Hundred of kids swarmed around us to see the new foreigners. Here Cullen is teaching them to count in English.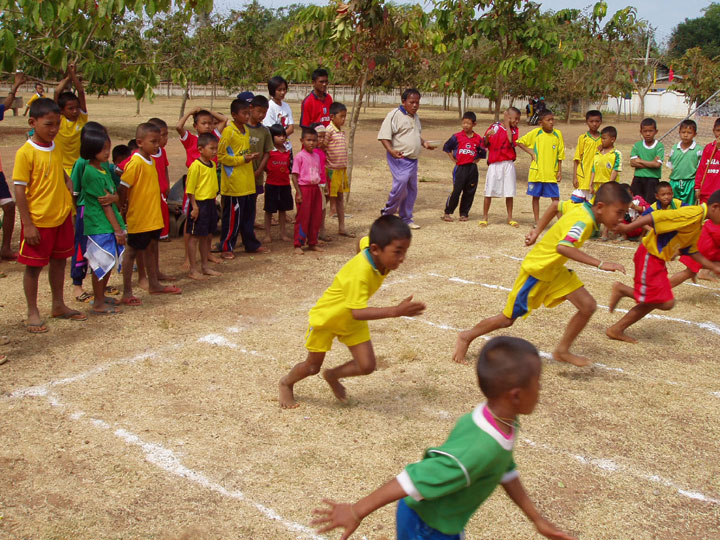 Here are kids at sport day. They are running sprints. Note the lack of shoes. Those with shoes wear flip flops.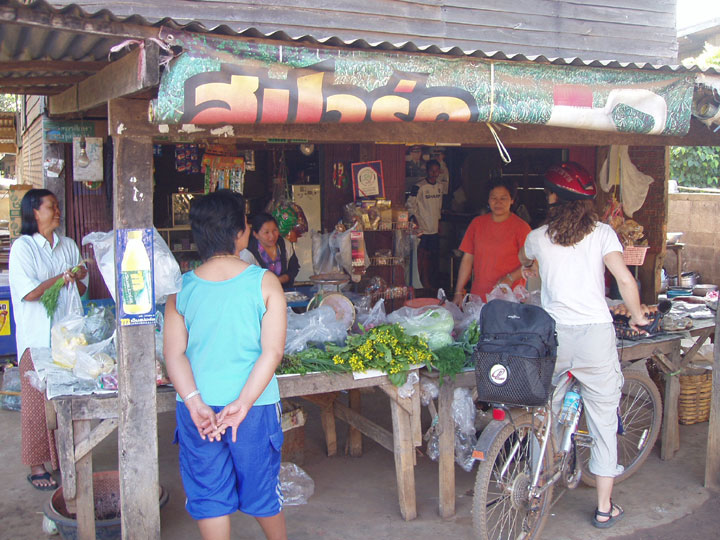 Vanessa picking through fresh vegetables. We are eating the freshest food we have ever eaten. Most of the vegetables and meat we eat were grown and/or slaughtered by the people who sell it on a daily basis.
Vanessa with the director of one of the day care centers, she took us to see her corn fields and of course gave us lots of corn to take home and eat.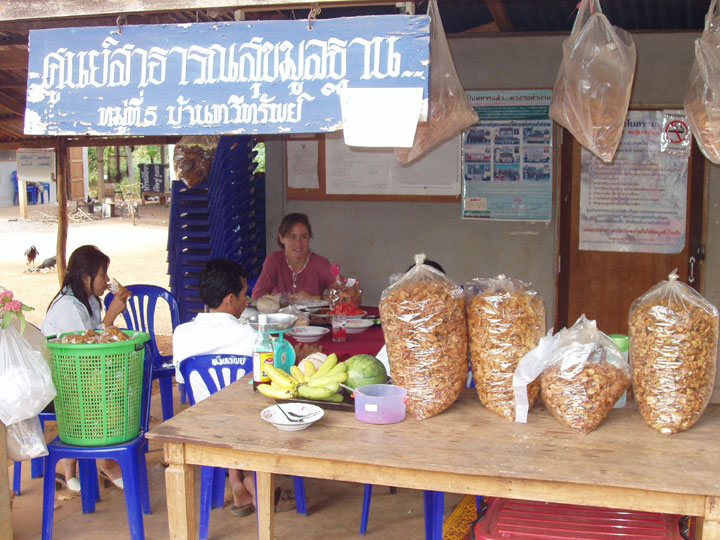 Vanessa at work with another women's group. This group makes banana snacks like those in the bags on the table. The sign above is a sample of the text we are trying to learn how to read. Right now we are more or less illiterate in the language.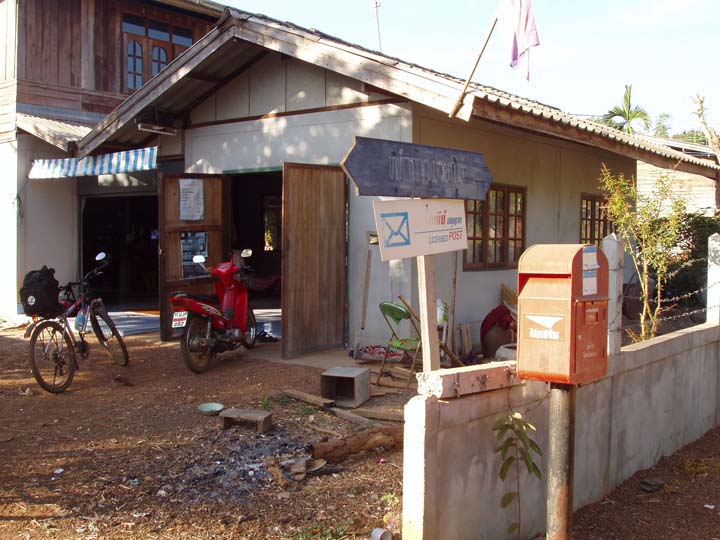 The Village Post Office. There is never a line, and they are happy to get boxes or any other things they need to mail letters/packages in the district town post office where they go everyday.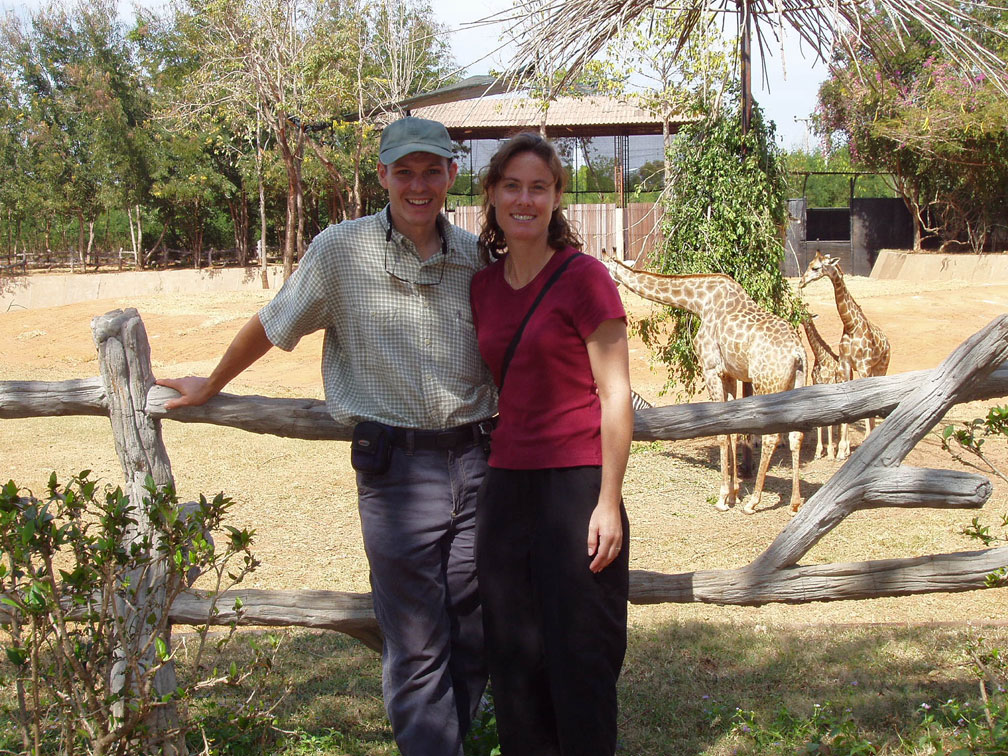 Cullen and Vanessa at the zoo in Korat.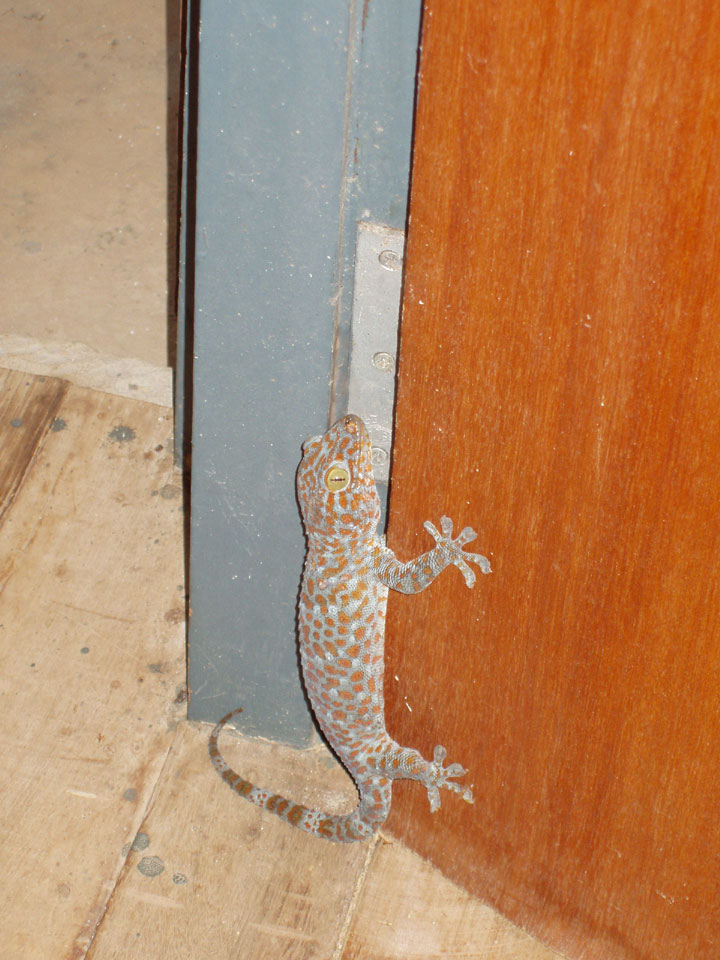 Our pet Spot who came with the house. He often makes a funny noise in the middle of the night. He is about 14 inches long. He actually changes colors according to the background colors he is clinging to.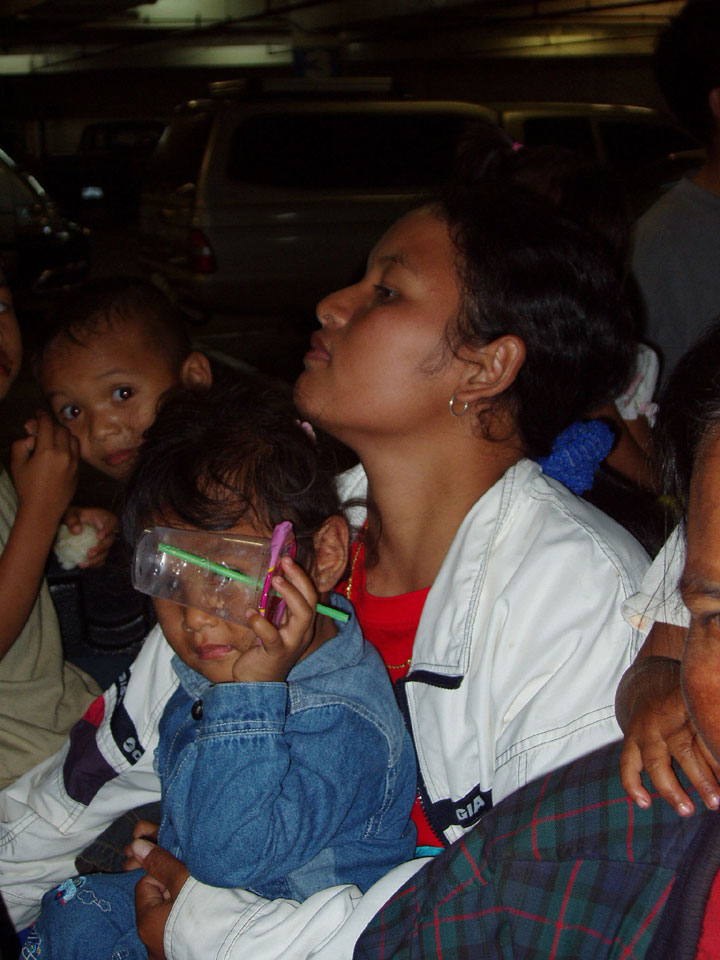 This girl is hiding behind this beverage container because she is scared of us. In our village, perhaps they have never seen foreigners before. More than once, Cullen has bent down to talk to a small toddler and they started to cry. This picture was at the end of the day and she was still scared of Cullen. We hung out with her two days later at the day care center for a few hours and he still wasn't able to make her feel comfortable with him.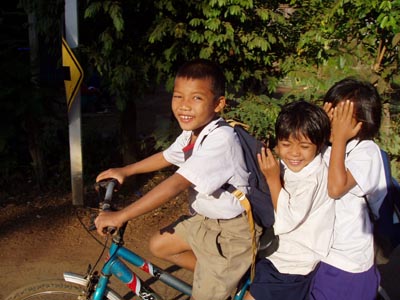 Here are a few kids on their way to school. The one in back is shy of the camera. Riding 2, 3 or 4 to a bike is not unusual. We really don't know how they do it. Its especially scary when they ride 3-4 people on a motor cycle that is going at high speed. All kids wear uniforms to school. The government helps those who can't afford to buy them. As a result, many of the kids wear their uniforms all day, everyday during the week, including weekends.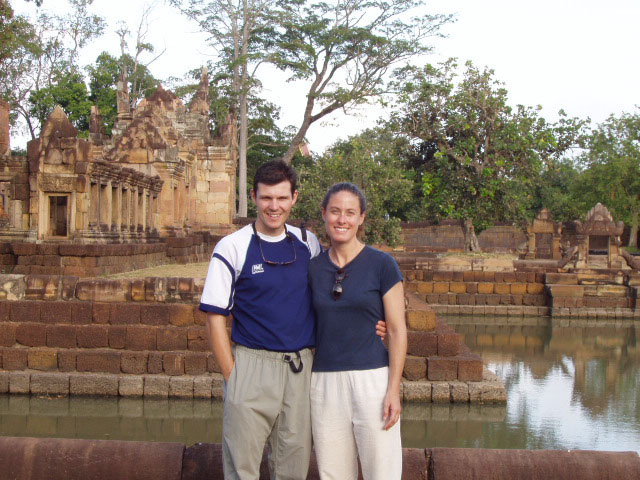 Vanessa and Cullen at Phanom Rung, which are ancient Khmer ruins located on a dormant volcano near our house. They are close to the border with Cambodia.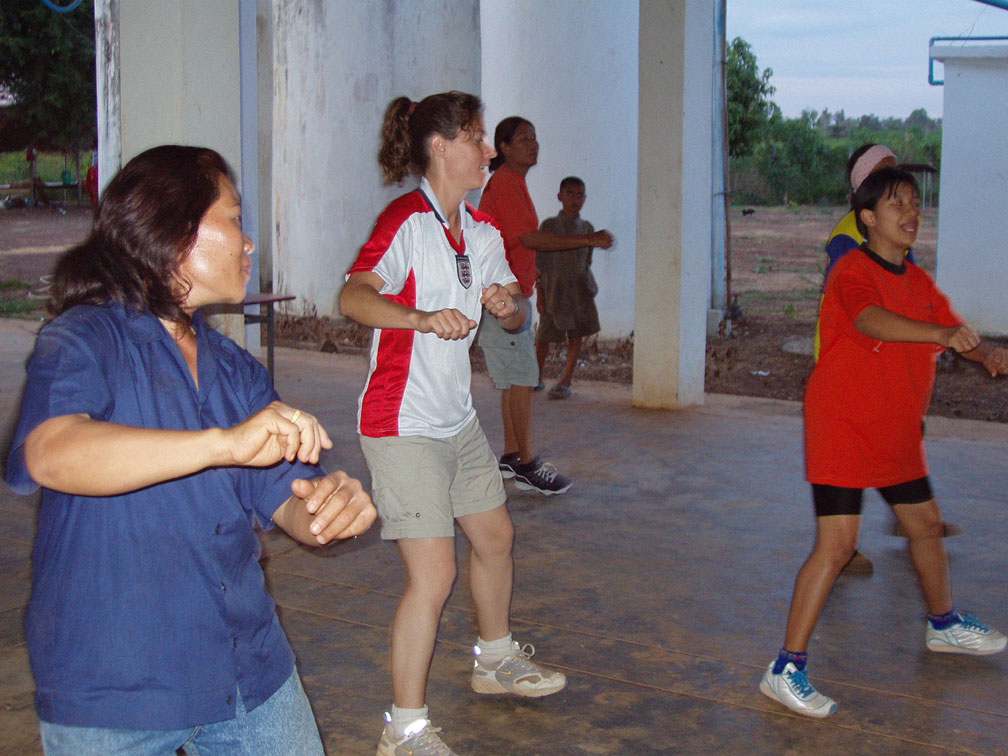 Vanessa in aerobics class at the health center. This is about 100 feet from our house. The tanks in the back contain the rain water that we get in our faucet. (We think.)
The Office. This is our "city hall." We come here each Friday to hangout and teach English. (More of the former than the latter.) No phone line, but we understand one is coming soon! There are 9 employees, not including the cows in the foreground.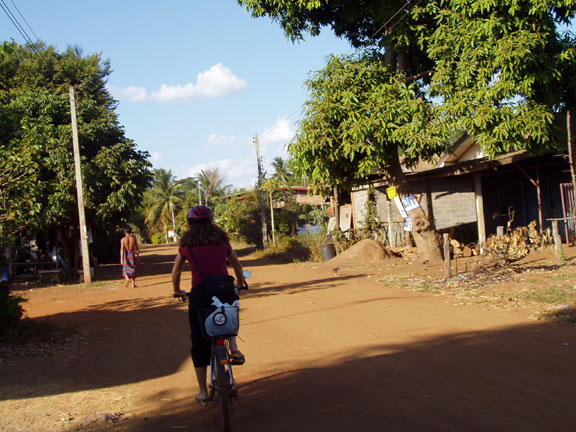 Vanessa riding through the street of town. In the background is a man wearing his pakima. Many men wear these cloth wraps when hanging out at home during the day.