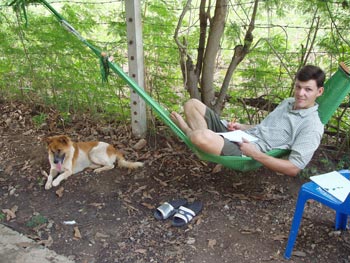 RELAXING
This hammock was Cullen'sfavorite place until the rope broke.That's Boday under the hammock. He belongs to the neighbors.. He joins us on our morning runs in the rice fields and on trips around the village. This week he followed us on a 12 mile round trip to the outskirts of our district.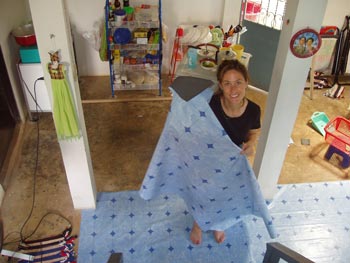 HOME IMPROVEMENT PROJECT
We finally decided to splurge on a type of flooring to cover our concrete floor. It makes a world of difference!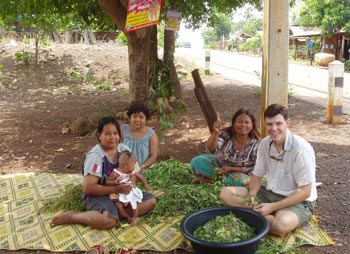 WORKING IN VILLAGE 5
This is the snack group that Cullen has been working with trying to help them increase their income.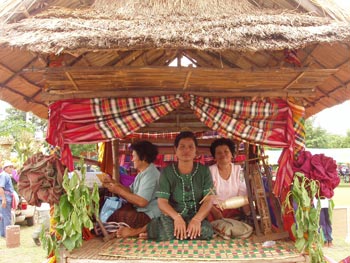 SILK GROUP
This is one of our silk groups. They are displaying their finished silk at the Rocket Festival..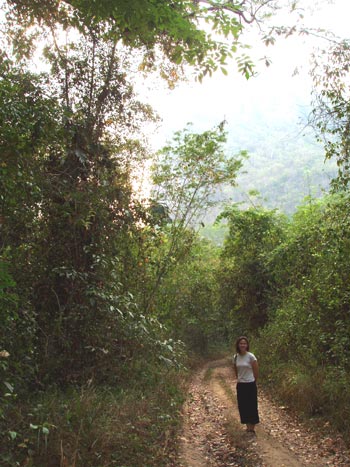 KAO YAI
This is a National Park about 3 hours from our site. It is known to have wild elephants, tigers, monkeys, etc, in addition to many waterfalls and hiking trails.
†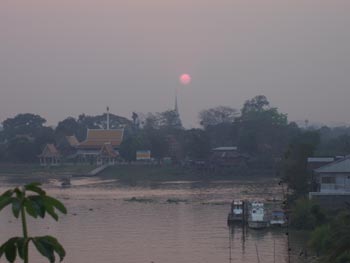 SUNSET IN AYUTAYA
In February, all the volunteers from our group gathered for two weeks in Ayutaya. Ayutaya is an ancient capital of Thailand and has endless ruins throughout the city.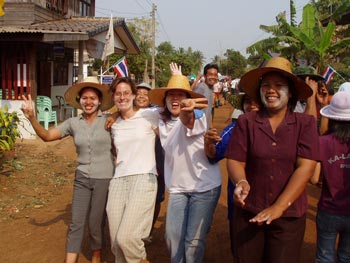 PARADE IN TUNG JUNGHAN
This parade through the streets of our village lasted about 3 hours, although it only traveled about a mile thriugh the streets of our village. It consisted of non-stop dancing, singing, drinking and was in honor of one man becoming a monk for 7 days.
†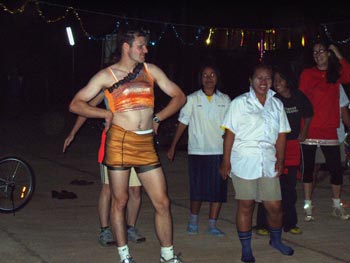 HALLOWEEN?
No! Cullen was talked into dressing up as a woman at our New Years party. You should have seen him dancing!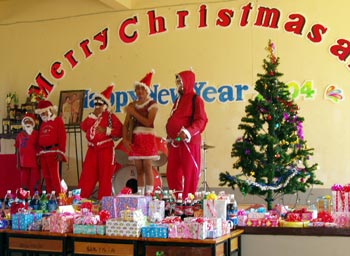 SANTA CONTEST
Although some Thais don't know much about Christmas and New Years (it is often considered one in the same, just 2 separate days), they enjoy the excuse to party and have fun.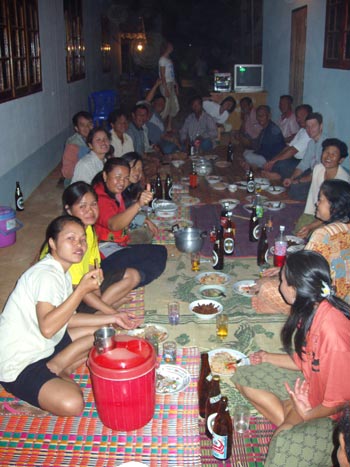 NEW YEARS DINNER
This is a typical dinner with friends. Usually male and females are separated and everyone sits on mats on the floor eating from communal dishes.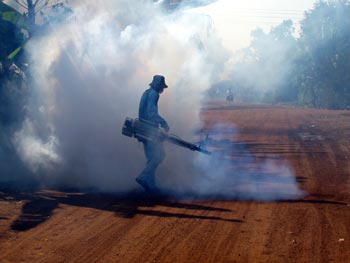 SPRAYING FOR MOSQUITOS
In December and January, mosquito spraying was quite common throughout the village. Anytime someone came down with Dengue Fever, a crew of volunteers would spray every house inside and out within 50 meters of the sick personís home.
†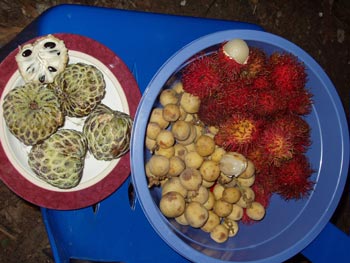 THAI FRUITS
Here are a few of the wonderful Thai fruits we enjoy, although we canít tell you the names in English.
†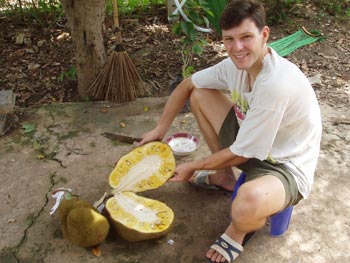 JACKFRUIT
This fruit is delicious but extremely hard to cut up. There is a sticky glue in the core that requires oil and then soap and water to wash off.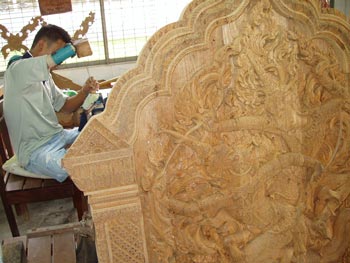 WORKSHOP
The craftsmanship is amazing here in Thailand! Note the handicap of this artist.